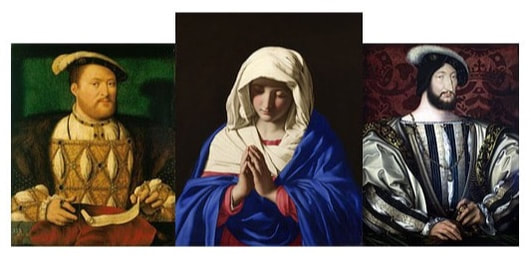 Henry, Francis, and the Virgin
The 2018 program of Green Mountain Monteverdi Ensemble will present secular and sacred music from the early 16th century, during the reigns of Henry VIII of England and Francis I of France. The choral portion of the program features texts for the Virgin Mary set by William Cornysh, Master of the Chapel Royal under Henry; John Taverner, organist and master of the choir at Christ Church, Oxford; and Jean Mouton thought to be in charge of the musical festivities at the meeting of Henry and Francis at the Field of the Cloth of Gold in 1520.

Vocalists Stephen Falbel, Nathaniel Lew, Erik Nielsen, Cameron Steinmetz, and Lindsey Warren will be joined by lutenist Douglas Freundlich, who will accompany solo singers in French and English lute songs, including the famous Jeune Fillette, and O Death, rock me asleep, which is attributed to Anne Boleyn. Harpsichord and lute intabulations will represent some of the earliest surviving musical pieces of the English Renaissance.

The performances will take place as follows:

· Friday September 14 – Unitarian Church of Montpelier, 130 Main Street – 7:30 p.m.

· Saturday September 15 – ​Seven Stars Arts Center, Sharon, 5126 VT Route 14 – 7:00 p.m.

Tickets are by donation. Suggested donation is $20 per adult, $15 student/senior, $10 for children, but anyone is welcome to pay what they can.
​
Call 802-223-0687 for more information or use our contact page.