2012: Monteverdi and Schütz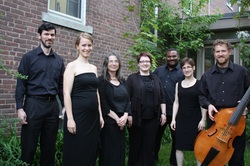 GMMEV's inaugural concert series included secular choral and vocal music of Claudio Monteverdi, mostly from his later books of madrigals, and sacred choral and vocal music of his student Heinrich Schütz, from the
Geistliche Chormusik
of 1648 and
Kleine Geistliche Konzerte
of 1636.
Follow this
link to our live performance on VPR
, hosted by Walter Parker
Follow this
link to a video recording
of our performance in Woodstock at St. James Episcopal Church
Read a
review
of our concert.
---
2013: Double-Takes

Our second annual concert series presented three performances of sacred choral and vocal music from the Baroque period. The program included three motets by Johann Sebastian Bach and works by Schütz, Schein, Scheidt, Franck, and Bach's cousin, Johann Christoph Bach. "Double-Takes" refers to the pairings of two composers who chose to set the same text. In most cases, the pairing includes one setting for small ensemble and a second setting for double chorus.

Follow this

link to our live performance on VPR

, hosted by Walter Parker.

2014: Il Pastor Fido
​For our third annual concert series, we returned to the Italian madrigal. Late in the 16th century and into the 17th century, a play called "Il Pastor Fido" (The Faithful Shepherd), written by Giovanni Battista Guarini in the early 1580s, inspired hundreds of madrigal settings by composers of the time. We focused on just three of these: Claudio Monteverdi, Heinrich Schütz, and Sigismondo D'India.

The complicated plot, involving a "love pentagon", and evocative text, provided these composers with plenty of material to explore the text-painting techniques that achieved full flower at the turn of the 17th century. Five singers, accompanied by theorbo, present some 15 madrigals, some stand-alone and some part of larger works, that span the full extent of the play from Act I scene i to Act V scene ix.
---
2016: Lamentations and Lute Songs
​The 2016 program of GMMEV featured the Lamentations of Jeremiah by Thomas Tallis, considered to be one of the great masterpieces of the Renaissance era. This work, spanning some 17 minutes of music, expresses the longing for Jerusalem through gorgeous harmonies and the warm sonority of five low voices: alto, two tenors, baritone and bass. The singers were joined again by lutenist Doug Freundlich from the Boston area to perform a series of lute songs in English and Italian, complementing the choral texture of the Lamentations.